Hello me lovelies
I'm only kidding...I have lots of exciting news to share with you well where do i start....back in August/September time when i was asked to join 2 fantastic DT's...that's Sketch n Stash & Nutcrafters, i was also asked to do some commission work for
Papercraft Inspirations Magazine
....so yeah you could imagine my head, yes swelling with all the excitement of joining 2 DT & Magazine commission work.
Anyhoo my commission work was for a Digi Masterclass well its out & if you look on pages 69-74 you will see my work, Paula from
Pollycraft
& Mel from
melstampz
There's lots of hints & tips about digi crafting....its a Masterclass not to be missed!!
(I did try to scan it but my scan has decided not to work..Sorry)
Also 2 of my Nutcrafters teamies our
Debs
&
Linda
were mentioned in Papercraft Inspirations too on page 88, its about
'Whats out there? Beautiful blogs!'...Well Done ladies!!
My next bit of news to share is.....a NEW challenge blog is about to start in December called
'Chocolate, Coffee & Cards'
& they held a DT call as they needed designers & guess what.....yes i applied....& i got it....Woohoo!!
Here the rest of the fabbie team...
&
Please visit their beautiful blogs & spread some love!!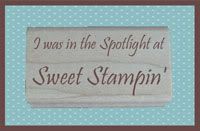 Thanks ever so much everyone at Sweet Stampin' for Spotlighting my card which you will find
here
I just want to say a massive 'Thank you' to all the people i design for...you have all made the last 3 months very special & i feel very honoured to be part of your teams...also 'Thanks you' to all challenge hosts I've had awards from since I've been blogging, i will cherish every one of them :D
Right best stop with the waffle as by now you will be getting very bored of me waffle so i will love you & leave for now but i will be back tomorrow with a Nutcrafters DT card...until tomorrow me lovelies!
hugs and xxx
Gemma