Hello me lovelies
How are we all??
I'm starting to feel a lot better & can sit comfortably at the computer without it hurting...Thanks goodness as I'm missing you all!!
Before i get on with tonight's card i just wanted to share some exciting news with you...i was featured at Birthday Sundaes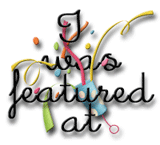 Thanks to everyone at Birthday Sundaes for featuring my card.....you can find my card
here
Anyhoo I have a card for you tonight made with a stamp called 'I love shopping' by
Rachelle Anne Miller
...i have had this stamp for absolutely ages & sort of neglected them a bit...naughty me i know!! So i thought I'd best have a play with them & came up with tonight's card, here it is.....
Papers & card
- Dovecraft back to basics 2, White & green card (stash)
Inks
- Promarkers lilac, lavender, lime zest, leaf green, oatmeal, blush, ivory, burnt sienna, cocoa, terracotta, Cool grey 1&2
Tools
- Xcut 'Doily dots' border punch, black fine liner pen
Embellies
- Ribbon & pearls (stash)
Thanks for stopping by and leaving such lovely comments....i always cherished every single one of them!!