Hello me lovelies
Thanks
Vicky
for a fabbie sketch sweetie :D
For this challenge we are sponsored by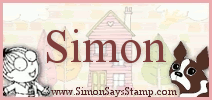 They are offering a brilliant prize of $15 to spend in their online store...how fab is that!!!
Also our lovely super talented GDT
Michelle
has now become our fully fledged SnS teamie....Woohoo!!
Right best get on with my card, here's my take on the sketch & hope you like it...
Sentiment
- Kanban 'Fairy Cakes' stamp set
Papers & card
- Dovecraft back to basics 2, Purple & white card (stash)
Inks
- CC spectrum noir 132,133,142,Wg0.5,Wg1,Wg3,Wg5,Wg7,Wg9,0,91,92,9883,146,73
Tools
- Joy Crafts! flower die
Embellies
- Purple ribbon & brads (stash)
Come back tomorrow as i have some exciting news to share with you.....oooo i can hear those cogs ticking...but i'm sorry not going to share today so i am going to leave you guessing!
Please stop by my SnS teamies to spread some love :D
Thanks for stopping by and for any comments you may leave!!