Hello me lovelies...
Don't you just think these weeks are flying by?
Soon Christmas will be here...Woohoo!! My tree & my decorations are up...also my ornaments & musical ones too are out so it looking quite festive here....ooooo i can't wait!! I'm a big kid when it comes to Christmas LoL
Right going to have to stop talking about Christmas as i will only make myself ill with excitement....oh believe me i do, both me & my sister was really bad growing up & couldn't sleep too...still can't hehehe
Right stop Gemma & get on with today's post....Sorry bloggers for waffling!!
Can't believe its Monday which means its that time again for another fantastic challenge from
Sketch n Stash
& this time our lovely, talented Chrissie has designed this gorgeous sketch....cheers Chrissie :D
Please don't forget to tell us what new/neglected stash you have used!!
We have also been sponsored by the fabbie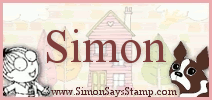 Who are offering an amazing prize of $15 voucher to spend in their
store
...fab or what!!
We have a special mention on our blog for an amazingly talented 8 year old girl but to find out who we are talking please visit our
Sketch n Stash Challenge Blog
!!
Here's my take on the sketch which i turned the sketch around, hope you like it....
(Sorry for the poor quality photo but unfortunately i couldn't get a good enough light)
Sentiment
- Kanban 'Cupcake' set
Papers & card
- Papercellar black & white pad, Black & white card (stash)
Inks
- CC spectrum noir Cg0.5, Cg1, Cg3, Cg5, Cg7,Cg9, White gel pen
Tools
- Nesties scalloped & plain rectangle, Fiskars eyelet border punch
Embellisments
- black ribbon & White pearls (stash)
Thanks for stopping by & for any comments you may leave :D
Please visit my Sketch n Stash teamies as they have some gorgeous cards to show you & wish
Michelle
well as she is poorly at the moment...Hope you are better very soon sweetie & make sure you get plenty of rest too!!